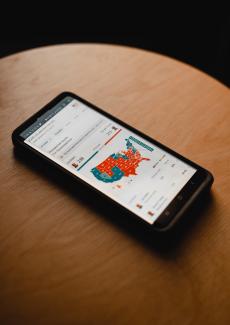 Election Clarity for the Markets
Dear Valued Investor:
Former Vice President Joe Biden has been elected the 46th President of the United States, defeating President Donald Trump in a tight race and bringing an end to the highly contested 2020 election. The new president-elect benefited from high voter turnout and solid support among independent and suburban voters. At the same time, Trump kept the race close, which likely helped put Republicans in a strong position to keep narrow control of the Senate. With the presidential election behind us, we can continue battling COVID-19, healing our economy, and bridging our divides as a society.
President-elect Biden will inherit an economy that is improving nicely. Based on gross domestic product, the US economy grew by a record 33% annualized in the third quarter as the economy reopened (Bureau of Economic Analysis), likely bringing the US recession—one of the shortest ever—to an end.
The strength of the US consumer has been a key driver of this recovery, with retail sales already eclipsing their pre-pandemic highs. But it's not just the consumer driving the rebound. Manufacturing activity has been on the upswing; investment in technology equipment has surged; most housing markets across the country are booming; company results during third-quarter earnings season have been much better than expected, and S&P 500 Index earnings are expected to increase significantly in 2021—potentially by more than 20% (FactSet).
Meanwhile, COVID-19 remains a threat as cases and hospitalizations continue to rise. Although the numbers may go higher in the short run, cases are skewing younger, and treatments have improved significantly, greatly improving patient outcomes. While widespread shutdowns are unlikely, renewed restrictions in Europe in response to its latest outbreak provide a reminder that this battle is not yet over. Safe and effective vaccines may be identified within the next month or two and become widely available sometime in mid- to late-2021.
Turning to policy, negotiating a stimulus package with Senate Republicans to help fortify the economic bridge to a COVID-19 vaccine likely will be among the first priorities after inauguration day, though a smaller package in the lame-duck session of Congress may be possible. With Republicans potentially in control of the Senate, Biden then may turn to scaled-down versions of his key spending priorities—including renewable energy, infrastructure, and healthcare—as major tax increases may be off the table.
While political change may cause market volatility, US political and economic systems are resilient and can, after a period of adjustment, adapt to new realities. Most of our investment horizons extend far beyond this election and any political cycle. Now that the election is over, the focus continues to be on providing independent investment advice and helping you stick to your long-term investment strategies. The commitment to you will not change, regardless of who is in office.
Please contact me if you have any questions.
Sincerely,
Shane Terry
President & LPL Registered Principal
Terry Wealth Management
2710 Loker Avenue West
Suite 220
Carlsbad, CA 92010
Phone/Fax  760.858.2080
CA Insurance Lic. #OK26885