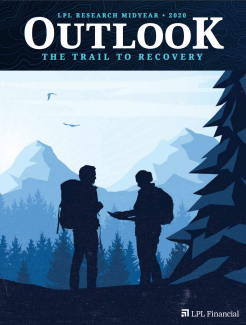 At the midpoint of 2020, we're mindful that it's been an extremely challenging year so far in the United States and around the globe. We're in the midst of a pandemic that continues to impact all of us, our communities, and our economies.  
Together we're looking ahead for new ways to face these challenges and how we can prepare now for better times. We've been impressed by what we've seen so far: The resiliency and accelerated innovation among large and small US businesses; efforts by our national, state, and local governments to support our communities; and most of all, the dedication and unprecedented cooperation among our front-line health professionals, medical researchers, and everyday people to guide us through this health crisis. 
At LPL Research, we know the stock market is forward-looking: It focuses on what's happening today and what it sees on the path ahead. Much of the real-time economic data we follow—such as transportation activity, home sales, and jobless claims—is showing tangible evidence that economic activity—while still depressed—has begun to make a comeback.  
Stocks already are pricing in a steady economic recovery beyond 2020 that may be supported if we receive breakthrough treatments to end the COVID-19 pandemic. However, the optimism we see reflected in the S&P 500 Index now may limit the size of the gains over the rest of the year. 
It's still going to be a challenging environment with significant uncertainty that may lead to more volatility for the next few months. Still, we continue to encourage investors to focus on the fundamental drivers of investment returns and their long-term financial goals.  
LPL Research's Midyear Outlook 2020 provides our updated views of the pillars for investing— the economy, bonds, and stocks.  As the headlines change daily, look to these pillars, or trail markers, and the Midyear Outlook 2020 to help provide perspective on facing these challenges now and preparing to move forward together.